Netnod IX pricing
IX connection prices
Effective 8 November 2019

Netnod IX Stockholm
Monthly connection fees at DigiPlex, Equinix Bromma, Equinix Sköndal, Glesys, Interxion, and KN7
(If you are connecting from another location in Stockholm, please contact us and we will help you)
 

(Note: Customers with 2 or more ports at the highest available speed receive 25% discount on the additional port(s) in the same LAG. This offer applies to 2 or more 400GE and, currently, 2 or more 100GE ports.)
** One time setup fee for off-net customers SEK 25 000
Netnod IX Copenhagen (Copenhagen - Malmö) 
Monthly connection fees at VG4, Interxion CPH, GlobalConnect, Malmö-B

(Note: Customers with 2 or more ports at the highest available speed receive 25% discount on the additional port(s) in the same LAG. This offer applies to 2 or more 400GE and, currently, 2 or more 100GE ports.)
Other Netnod IX Locations
Gothenburg | Sundsvall | Luleå

Customers with 10G or 100G ports at BOTH of Netnod's Stockholm and Copenhagen IXes receive FREE 1G or 10G ports respectively at the Gothenburg, Sundsvall, and Luleå IXes.
Netnod IX Oslo (Powered by NIX)
On-net locations: Gaustadallen 23B, Hans Møller Gasmanns vei 9, Ulvenveien 89, St. Olavs plass 5 

Additional services
VLAN 
If you have a port at one Netnod IX, you can add a VLAN connection to any other Netnod IX.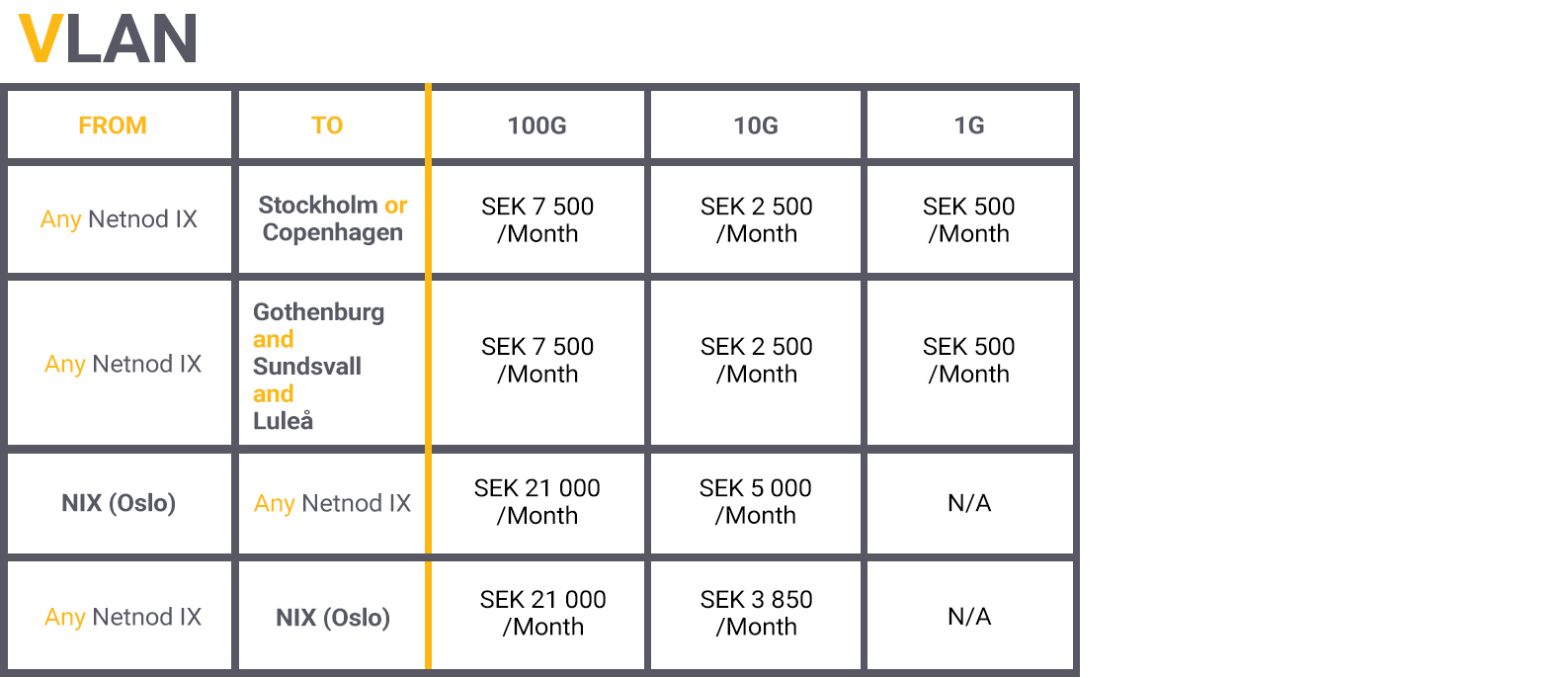 Patch cable 
(Annual fee, minimum 2 yrs) SEK 5 000
All fees are specified excluded of value added tax and other governmental charges.
If you need further information or want to place an order, please contact us using the form below.
Connect now to a Netnod IXP