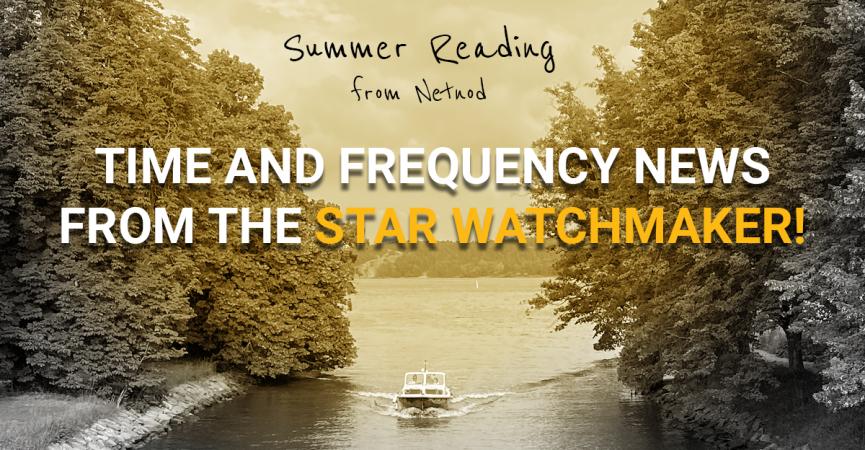 Summer roundup - time and frequency news from the star watchmaker!
Whether you are taking a trip or staying put, here is a selection of my favourite time-related news from Netnod.
World-leading time services
Netnod provides Network Time Protocol (NTP) and Precision Time Protocol (PTP) services from multiple, redundant nodes throughout Sweden. We just added a PTP node in Luleå in the north of Sweden. If you want to understand why PTP is important, take a look at this excellent overview on the benefits of PTP from Patrik Fältström.
Netnod has been recognised for world-leading time services by the Royal Swedish Academy of Engineering Sciences (IVA). Praising Netnod as a "star watchmaker" ("stjärnurmakare"), the President of IVA described our time services as one of the best in the world.
Make sure your time is secure
A lot of the Internet's most important security tools are dependent on accurate time. But until recently, there was no way to ensure your time came from a trusted source. That all changed with the new Network Time Security (NTS) standard, which Netnod has been instrumental in developing and implementing. 
You can find more details on the NTS standard (known as RFC8915) here.
If you want to set up an NTS client to take time from Netnod's NTS servers, follow our detailed HOWTO here. 
We have also been busy implementing the first Field Programmable Gate Array (FPGA) implementation of NTS which we made available for testing. 
NTS white paper
Netnod's white paper gives you the full rundown on the issues with NTP, how NTS works, and the authentication process it uses. The white paper is written by the leading experts in NTS and is recommended for anyone looking to get more detail on this important development.
High accuracy time? Follow the White Rabbit
Initially developed by CERN, White Rabbit is at the cutting edge of high accuracy time systems. To find out more about how it works, why it is important, and how Netnod plays a leading role here, take a look at our in-depth discussion of White Rabbit. 
And talking of time….
Since it was formed in 1996, Netnod has been involved in some key moments of Internet history. Read about some of the major milestones as we celebrate 25 years working at the core of the Internet.