Nurani Nimpuno new CRISP vice chair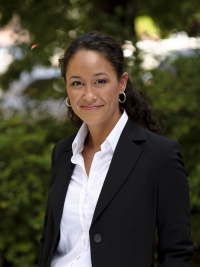 Nurani Nimpuno has been elected new vice chair of CRISP
10 April 2015
Netnod's Head of Outreach and Communications Nurani Nimpuno has been selected new vice chair of the CRISP Team (the Consolidated RIR IANA Stewardship Proposal Team). 
The CRISP Team was tasked by the global numbers community, with producing a single proposal to the IANA Stewardship Transition Coordination Group (ICG) in response to the RFP published on 3 September 2014. The final proposal can be found here.
The CRISP Team consists of 15 members from the global numbers community with representatives from each of the five Regional Internet Registry (RIR) communities. Nurani is one of two community representatives from the RIPE region. She will replace Alan Barrett as vice chair of CRISP. 
Background
On 14 March 2014 the US government announced a plan to transition oversight of the Internet Assigned Numbers Authority (IANA) functions contract from the National Telecommunications and Information Administration (NTIA) to the global multistakeholder community. Currently the IANA functions are managed by the Internet Corporation for Assigned Names and Numbers (ICANN). The current contract expires on 30 September 2015. The IANA functions are part of Internet infrastructure and include responsibility for allocating and maintaining the unique codes and numbering systems used in Internet technical standards.
The IANA Functions
The IANA functions consist of the following responsibilities:
Coordination of the assignment of technical Internet protocol parameters through the Internet Engineering Task Force (IETF)
Administration of and coordination of Internet domain name system (DNS) root zone management
Allocation of Internet number resources to the Regional Internet Registries (RIRs)
Management of the .ARPA and .INT top-level domains (TLDs)
More information
More information about the IANA Stewardship transition on the ICANN website.
More information about the CRISP process on the NRO CRISP website.
"The IANA Functions in 180 seconds" video.
The ISOC IANA Webinar of the IANA Stewardship transition.
A short video on the IANA Stewardship transition status from the numbers perspective.