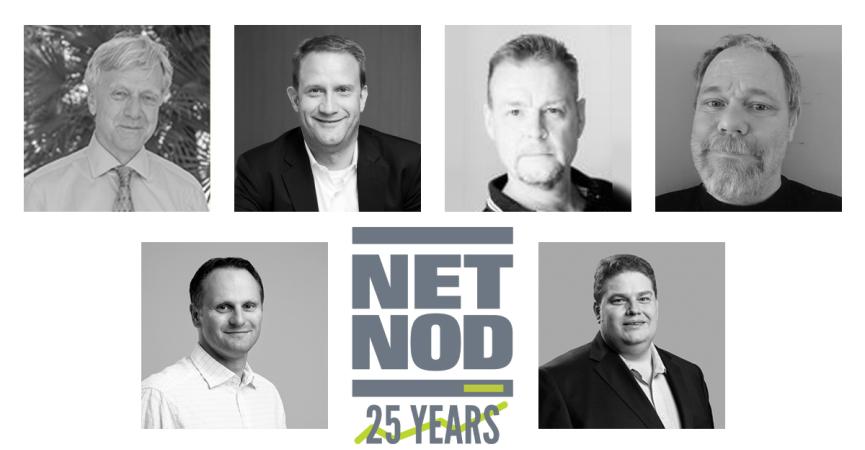 The people and stories behind one of Europe's first Internet Exchanges
Continuing our series celebrating Netnod's 25 years at the core of the Internet, in this post we focus on the Netnod Internet Exchange (IX). We talk to those who have been involved with Netnod over the years, look at some of the early IX challenges and technology, and hear some stories from the early days at the core of the Internet.
1. Early days at the IX 
Formed in 1996, Netnod began operating the Netnod IX (formerly D-GIX) in 1997. D-GIX had launched in 1992 as the first Internet Exchange (IX) in Sweden and one of the first IXes in Europe. 
Torbjörn Carlsson (Vice President Registry Services, Internetstiftelsen): I am often referred to as Netnod's first CEO, and my goal at the end of the 1990s was to transform Netnod from a 100% "virtual organisation" to a "physical organisation" and to establish so-called hub LANs for the IX that could also offer extra services, such as DNS and NTP. I started by recruiting Lars-Johan Liman and Johan Ihrén (now Stenstam). We started in a room on Sturegatan before moving to Netnod's first own office on Bellmansgatan. In 2002, I recruited Kurt Erik "Kurtis" Lindqvist as my successor. I have since had regular contact with Netnod as a customer.
Kurtis Lindqvist (CEO, LINX): I started as the Netnod CEO in 2002. The first challenge was to clarify and formalise Netnod's role and make sure the organisation was robust. One of the interesting things about Netnod that most people don't realise is that when Netnod was formed in 1996, there were no data centres in Sweden. The first data centre didn't start until Telecity launched in 1998. So, unlike other IXes, Netnod had the challenge of building out an IX infrastructure prior to data centres being established. This was one of the reasons we housed Netnod's IX infrastructure in bunkers throughout Sweden.  
As the IX market became more commercialised, we focused on how to adapt to the commercial side of things. We brought on key commercial staff and widened our focus beyond the Nordics, for example by targeting the Russian market. As a small organisation, Netnod has always had the advantage of being able to move in a fast and agile way. I think we did a great job in adapting to the market and predicting where it was going. 
2. IX tech over the years
Kaj Kjellgren (Senior Network Architect, Netnod): In the early days of the Netnod IX, we used a Fibre Distributed Data Interface (FDDI) switch. In 2003, we moved across to Dynamic Packet Transfer (DPT) rings. The boxes were administered using SNMP (Simple Network Management Protocol) and you configured them using around half an A4 page of commands sent in one go. I had a whiteboard where I would add all connected networks and draw pen connections between them to make sure the rings were complete. In those days, the whiteboard was the master configurator.
Måns Nilsson (Network Engineer, SvT): My connection with Netnod goes back to the early 2000s when I was working at KTHNOC. I remember that our connection to the old FDDI IX had an FDDI backbone and 10Mbit FDX Ethernet for the client ports. There, a lot of smaller, mostly foreign ISPs connected into the IX using a very broad palette of connection types, most of which are forgotten today. A typical node might be a very small router (like Cisco 2500 small) with a 10Mbit Ethernet link to the IX, a 2Mbit PDH backbone link to the ISP, and icing the cake of legacy, an ISDN connection for out-of-band! 
I remember there was some controversy when we accepted a new customer to KTHNOC: the competitor IX, SOL-IX. While SOL-IX today is rather small, its growth in the early days was fast. I believe SOL-IX was a factor in Netnod building its Gigabit Ethernet IX system, the descendants of which are running today.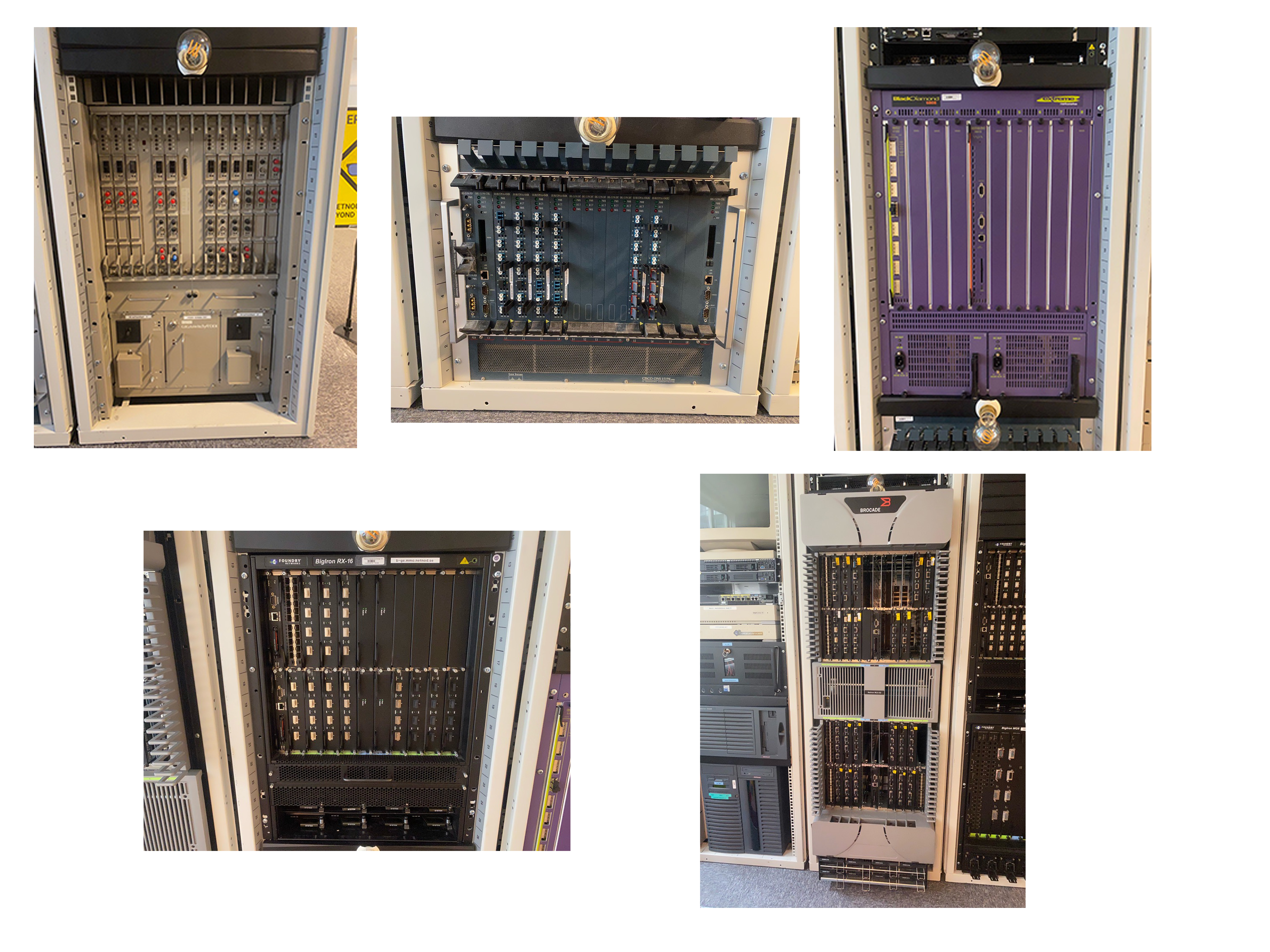 Figure 1: From top left - Digital GIGAswitch FDDI; Cisco ONS 15194 (2.5G DPT); Extreme Black Diamond 6808; Foundry RX16; Brocade MLX-32
Kaj Kjellgren (Senior Network Architect, Netnod): Our first Ethernet connectivity for customers came when we moved to an Extreme Black Diamond 6800 switch. We later moved to Foundry MG8 switches (Foundry that later became Brocade, and now is Extreme), RX-16 and then MLX switches. Today we run a DWDM platform using Data Centre Interconnect (DCI) equipment from ADVA Optical Networking and switching technology from Arista. This allows us to interconnect between all major data centres in a metro region providing 10G and 100G transport with multiple routes. As of late 2019, we started using the Arista R3-Series to expand our IX capacity and enable us to be one of the first IXes to offer 400GE ports for customers.   
Andreas Bechtolsheim (Chairman, Chief Development Officer and Co-​Founder of Arista Networks): We have been excited to partner with Netnod to bring the cost-performance of 400G Routers to the Nordic markets. 400G is obviously the next major step in Ethernet Speed, and it is particularly important for service provider networks due to availability of 400G-ZR and 400G-ZR+ coherent optics that enable metro reach and longer reach spans to connect their multiple sites. 400G-ZR/ZR+ can be multiplexed in the C-band with up to 64 channels per fiber pair, enabling up to 25.6 Terabit/second capacity per fiber link.
400G Ethernet and 400G-ZR is expected to ramp quickly over the next few years and will become the highest volume coherent optics interface in a short period of time. The next major step on the Ethernet roadmap is 800G which is expected to become available in the market in the second half of 2023. This will be matched by 800G client optics and 800G-ZR which are expected to be available in the same timeframe. 
3. Netnod's place in the industry 
Kurtis Lindqvist (CEO, LINX): From its earliest days, Netnod has been involved in very important contributions to the Internet. Netnod staff have played leading roles in the Internet Architecture Board (IAB) and the Internet Engineering Task Force (IETF) and have helped develop the global Internet by, for example, the pioneering work Netnod did with DNSSEC for .SE. I think Netnod have been very good at balancing the role of running critical Internet infrastructure and driving research and development with finding ways to keep track of the market and to remain commercially viable.I think Netnod plays an important role by interconnecting networks not just at the level of infrastructure but also on a personal level. The meetings and forum for personal connections provided by Netnod have been essential in helping the community to grow.  In terms of Netnod's role in the global Internet community, I remember in particular Netnod's contribution to the World Summit on the Information Society (WSIS) in 2005 in Tunis. This was a very important moment in the history of the Internet where it was possible things could have fundamentally changed. Netnod contributed as a Root Server Operator and made important contributions to defending the bottom-up, industry self-regulatory Internet model. For an organisation the size of Netnod to play such a role in helping to secure the future of the Internet is indicative of the positive and significant influence Netnod has had over the years. 
Måns Nilsson (Network Engineer, SvT): I hope that Netnod will stay relevant and focus on its core activities—names, time and IX—while being a good network citizen. I'm confident this will be the case. I commend Netnod for its work in operating the root server (and the anycast services for others), the time services and for running and securing the IX in such a professional way. 
Torbjörn Carlsson (Vice President Registry Services, Internetstiftelsen): With its high technical competence, Netnod has always managed to be at the front line within its core areas of IX and DNS. With the background, knowledge and experience from i-root, Netnod succeeded early on in launching anycast service for TLDs. That service has been constantly improved and with its global coverage and operational stability (100% availability over time) can be seen as the market leader. At IXes, Netnod has managed to stay at the forefront of technology and current capacity and innovation, despite the fact that large investments were required on an ongoing basis. The investment that was made early with so-called hub LANs at Netnods IXes where various services were made accessible such as DNS and NTP has definitely done great good for the Internet's infrastructure, especially in Sweden. It should also be mentioned that Netnod's employees' involvement in ICANN, IETF and in other contexts nationally and internationally has contributed positively to the Internet we have today.
LM Jogbäck (Netnod CEO): I joined Netnod at the time of the 20th anniversary. Since then, we have seen a major overhaul of our interconnection platform resulting in more flexible connection options for our customers. We have interconnected our IXes throughout the Nordics enabling remote peering and transport between data centres. Our DNS service also continues to be world class with an ever-expanding footprint across the globe.
As ever, Netnod also plays a leading role in standards and governance activities. This includes work on developing standards, such as Network Time Security, and providing expert input to governments and regulators. 
It is with great pride that I see the positive impact of the work we do at Netnod. I look forward to working together with our partners, customers and the Internet community to ensure a rock-solid Internet for everyone.  
Further information
More information about the Netnod IX is available here. For more on Netnod's 25 year anniversary working at the core of the Internet, see here. 
You can find Lars-Johan Liman's blogpost celebrating 30 years of Europe's first root name server here.