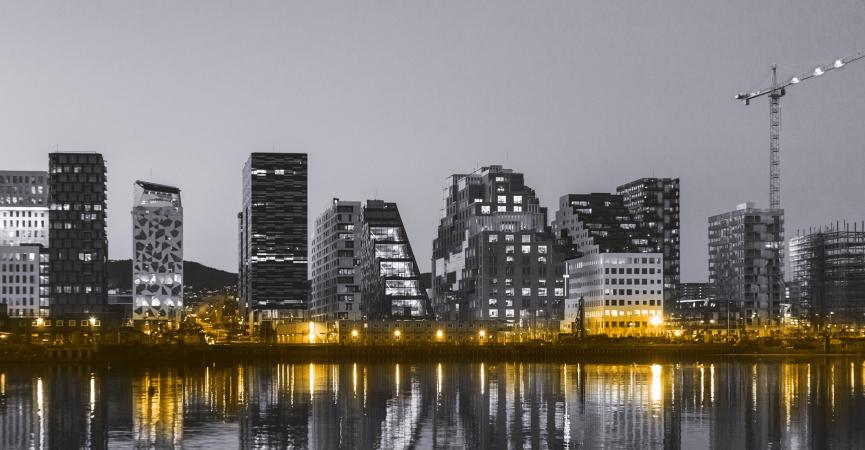 Peering in Norway: traffic growth and shifting patterns
In this guest blog post Kjetil Otter Olsen, CEO of the Norwegian Internet Exchange (NIX), looks at the traffic growth in Norway over the last few years, the impact of COVID-19 on traffic patterns and the interconnection developments in Norway we can expect to see in the future.

Introduction
Norway has a long history of Internet use and connectivity. Back in 1973, Norway was the first country outside the USA to be connected to the ARPANET. It was done through a satellite link with 2.4 Kb/s capacity! A lot has happened since then, and for the past couple of decades Norwegians have taken to the Internet with a big appetite. Broadband penetration today is good, and the use of mobile broadband is high and growing fast.
Internet providers in Norway use both public and private peering to connect their networks, as is the standard in the business today. The Norwegian Internet eXchange (NIX) is the major peering point for public peering in Norway, and has held that position since its launch in March 1993. Ever since then, NIX has been owned and operated by The University of Oslo. Today NIX operates a total of six separate peering LANs across Norway to facilitate both redundancy in the Oslo area, and regional peering spread out through a long and thin country.
Traffic growth in recent years
Overall traffic growth has picked up quite a lot over the past two years. In early 2019, peak traffic was just above 50 Gb/s. Today peak traffic has increased to over 200Gb/s. The graph below shows the traffic from the beginning of 2020 to the first two months of 2021.

It is worth noting the traffic did not increase very much when the COVID-19 pandemic first hit Norway in March 2020, and we will come back to that later in the blog. The growth came later in 2020 and the reason is that more networks connected to the IX. We also see that more content is available at the exchange, both through CDNs and regular content providers.
Future growth
One key element in attracting international customers and making it easier for international networks to connect is our close cooperation with Netnod. The cooperation has been in place since 2015 and is a big advantage for NIX. Netnod has a leading role in the peering landscape both in the Nordics and in Europe, and NIX benefits from that in both the technical and commercial domain. Using the state of the art DWDM-network operated by Netnod it is easy to connect to NIX from any data centre where Netnod is present. And Netnod can also resell NIX connectivity to Netnod customers through the product Netnod IX Oslo (Powered by NIX). This streamlines the process for customers and avoids the need for a separate contract to connect to NIX.
Looking ahead, we expect to see more networks connecting to NIX. The international networks will connect in Oslo, mainly to make sure that Norwegian customers get the very best access to international content. We believe that our cooperation with Netnod makes this easier for everyone. We also believe that Norwegian enterprises will connect to NIX in greater numbers in the future. The reason is that these enterprises use cloud services for their core business, and need resilient high-speed connectivity to the cloud providers. And in many cases connecting to NIX can be an important piece of that puzzle.
Another area of growth is the NIX peering point close to Stavanger in the southwest corner of Norway: the Stavanger Internet eXchange (SIX), located in Green Mountain DC-1 just outside Stavanger. Over the past year, this regional peering point has seen  tremendous growth as you can see in the graph below. This is due to a lot of content being available, and a growth of networks connecting. We believe that SIX will continue to grow and attract even more content and eyeball networks in the near future.

COVID-19 and changing traffic patterns
Back to the pandemic. A lot of things happened to both internet providers and NIX when Norway went into lockdown Thursday March 12th 2020. We saw a big shift in traffic patterns. First of all, the daytime traffic grew significantly. Before the pandemic, the traffic peak was in the evening, but once lockdown started the traffic peak quite rapidly moved to working hours. The graph below gives an idea of how quickly this happened.. Lockdown was announced on  Thursday, and as soon as Friday we can already see a big change. This was even more pronounced after the weekend.

We also saw that networks serving companies with offices and internal services had a big shift in traffic patterns. These shifted from being mostly inbound during daytime, to being mostly outbound. This happened almost overnight as a result of everyone working from home. The graph below shows a typical example with the lockdown starting on Thursday. The blue line shows inbound traffic to the company, and the green graph shows their outbound traffic to the Internet and staff working from home.

More about NIX
The Norwegian Internet eXchange (NIX) provides internet exchange services at eight different sites in Norway connecting almost 70 Norwegian and international networks. NIX also provides access to several root-servers and the NKOM nettfart.no service. Through cooperation with Netnod we can also provide a wide range of interconnectivity and peering services in the Nordics. NIX is owned and operated by the University of Oslo. More information is available here.
More about the Netnod IX Oslo (powered by NIX)
The cooperation between NIX and Netnod enables customers at NIX to connect to any of the Netnod internet exchanges (IXs) in the Nordics and Netnod customers to connect to NIX.  No extra cross connection or equipment is needed which means networks can peer throughout the region in an extremely cost effective and scalable way.  Connection options at Netnod IX Oslo include: public peering, private peering, Remote IX connections to any other Netnod IX, and point-to-point transport within Oslo or between Oslo and other Nordic cities. More information is available here.
Kjetil Otter Olsen
Kjetil holds a M.Sc in computer science from University of Oslo. Since 1985 he has been involved in both IXP, LAN, WAN and WLAN planning, deployment and operations for the University of Oslo and NIX. In 1991 Kjetil was one of 18 founders of Oslonett, the first commercial ISP for private customers in Norway and part-time employee in Oslonett until 1995. Kjetil has been involved with Euro-IX since 2004, and has served both as chair, board member and auditor of Euro-IX.