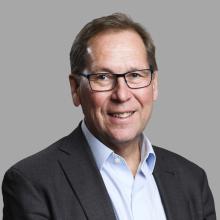 Anders Janson
Anders has been a member of the Netnod Board for over 15 years including many years as Chair. He received his law degree at Stockholm University and is currently a partner at Wollsén Albinsson Advokatbyrå, where he has been since 2016. 
Prior to Wollsén Albinsson, Anders spent 26 years at Foyen Advokatbyrå. Anders has also held positions at Sveriges Riksbank, (Swedens Central bank), Riksgälden, (Swedish National Debt Office), and SEB, amongst others.  
Anders' extensive knowledge within business law in relation to Netnod's juridical matters is extremely valuable to the Netnod Board.